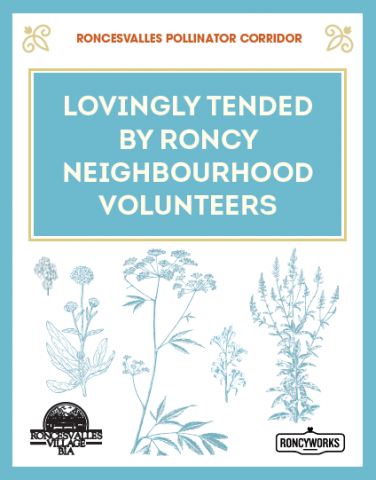 It's an awesome collaboration. The Roncesvalles Village BIA (RVBIA) owns the 23 street gardens along Roncesvalles Avenue.  21 of these gardens were installed during the reconstruction of Roncesvalles completed in 2011. These were a significant part of the beautification desired by the community, which also included plans for a tree canopy, benches and wider sidewalks. The intent was to create a street that could be enjoyed by all who live, work and visit here.
Amazingly, RoncyWorks Green Team volunteers from the community have been planting and maintaining 21 of these gardens along Roncesvalles since 2013, in partnership with the BIA. In 2016, two new gardens were added at the north end, with the completion of the Dundas Roncesvalles Peace Garden (DRPG). The Peace Garden has also been maintained by volunteers — from the Friends of the DRPG in partnership with RoncyWorks and the RVBIA.
The RoncyWorks Green Team approach embraces perennials, native plants, and pollinators. Each gardener plans and maintains one or more gardens. The Parkdale Green Thumb Enterprise is hired by the RVBIA to water the gardens.