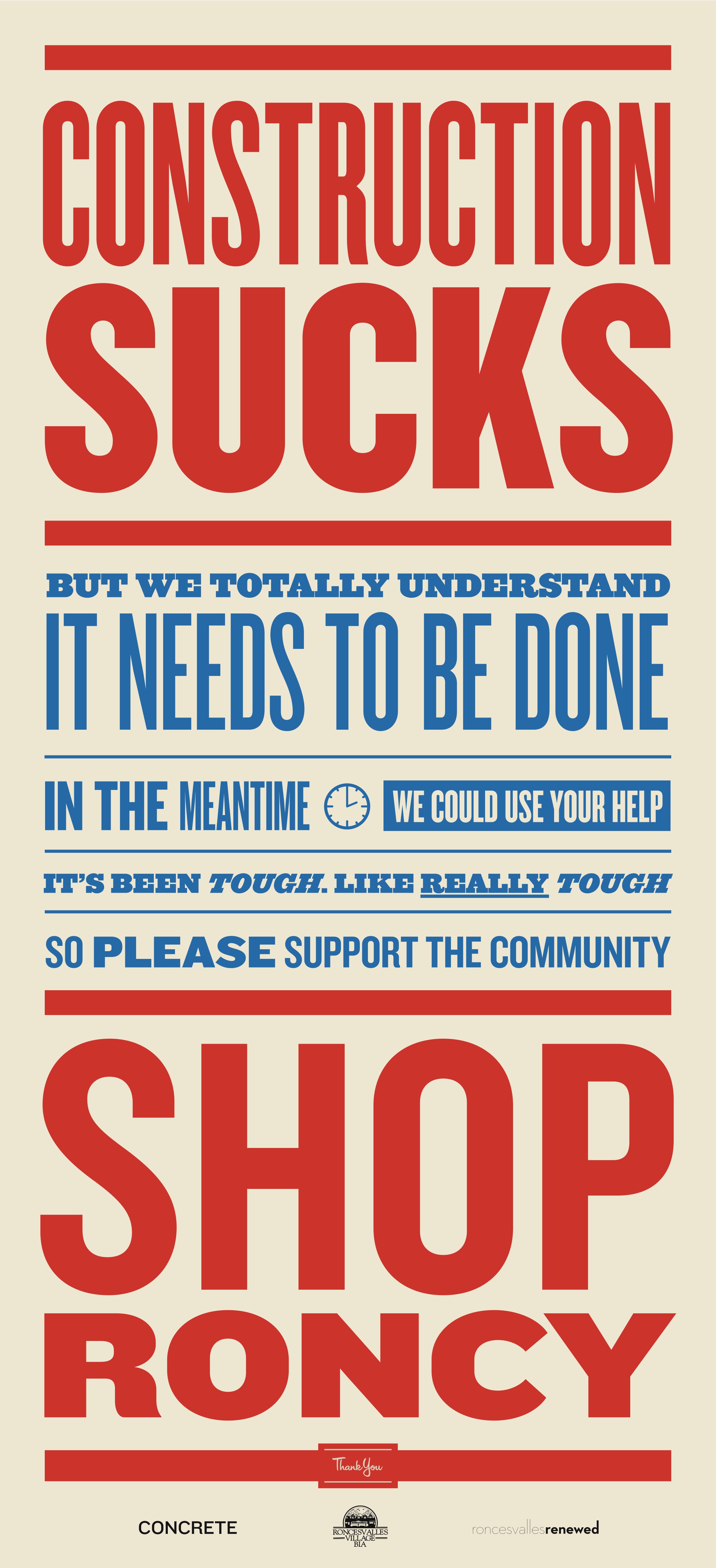 Cheeky Community Campaign to Support Local Business Turns Heads In Roncesvalles Village
Normally, shop local campaigns are the result of the efforts of a BIA or other business association. But once again, the residents of Roncesvalles Village have shown great initiative and genuine support for their community.
After all, this is the community that uniquely came together to save its neighbourhood movie theatre, the Revue Cinema, back in 2006, and now operates it as a not-for-profit, community-run cinema.
The second and final round of construction began on Roncesvalles in mid-July. The replacement of streetcar tracks and sidewalks, along with significant streetscape improvements, is expected to be finished in late 2010. During this time residents and visitors will enjoy three hours free parking on Roncesvalles Avenue in legal spots, a welcome attraction as construction progresses.
Within days of the backhoes breaking ground, "Construction Sucks" posters began appearing in storefronts all over Roncesvalles Avenue. These terrific posters are the brainchild of members of Roncesvalles Renewed, a community group which has worked tirelessly since 2003 to guide the streetscape renewal of Roncesvalles Avenue.
The poster was designed by Edmond Ng at Concrete Design Communications Inc., a local design and branding firm. Romina Fontana, Managing Director, explained: "Concrete has been in the neighbourhood for approximately fifteen years. We were happy to accept this as a pro bono job to support the neighbourhood, and our fellow business owners, during the construction."
Businesses in Roncesvalles Village have shown real enthusiasm for the campaign, and gratitude for the support. One business owner remarked "I love this neighbourhood!" on receiving her poster. That customers have found a humorous way to show support for local businesses struggling with construction woes is truly remarkable. To quote John Bowker, owner of She Said Boom! and
member of Roncesvalles Renewed: "Roncesvalles Village may grumble about construction, but we never whine."