The TTC will be reconstructing the intersection at King / Queen / Roncesvalles / Queensway (KQRQ) this year. The construction will take place in three phases as outlined below. This is a joint project by the TTC, Toronto's Transportation Services and Water Division.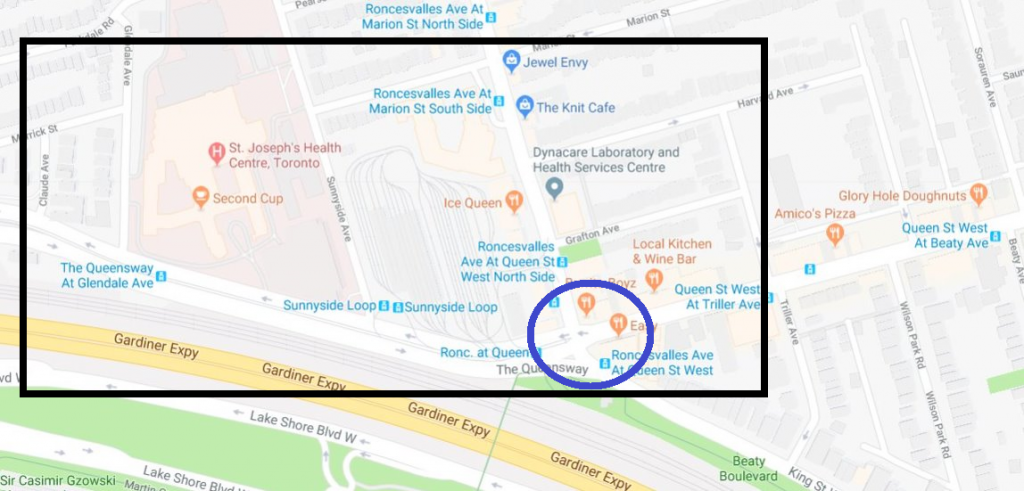 Overall Scope of work – Starting in April 2019
As part of the state of good repair work, the aging sewer and track around the intersection needs to be replaced
Relocating the eastbound centre platform streetcar stop to the far side of the intersection
Realigning the King Street West leg to create a better intersection angle and increase green space
Modifying / constructing street car platforms at Glendale Avenue
Continue the bump-out treatment on Roncesvalles at this intersection
As part of the Sunnyside Community Association area traffic study that was completed in 2008, the city will also be:
Modifying the signal at Glendale Avenue and Queensway
Adding dedicated eastbound – left – turn lanes at Sunnyside Avenue, Glendale Avenue, and The Queensway
Signalizing intersection at Sunnyside and The Queensway
Modifying the streetcar track vertical alignment (slope at Claude Avenue that will visually and physically enhance the existing right-in / right-out at Claude Avenue)
At the same time that the road is closed, the TTC will be modifying Roncesvalles Ave with small adjustments to the Bump Outs and Streetcar Platforms from Marion St. to Boustead Ave. so they are in compliance with AODA legislation and support smooth operation of the ramps on streetcars. March 31st to August 4, 2019.
Time Line
This work will take place in three main stages.
Stage 1: Roncesvalles (from Harvard to The Queensway / Queen Street West)

March 31st, 2019 to August 4, 2019

Stage 2: Queen Street West and The Queensway (Sunnyside to Triller)

August 4, 2019 to Winter 2020

Stage 3: The Queensway (Parkside to Sunnyside)

April 2019 to October 2019
Road Closures
Roncesvalles will be closed to Thru-Traffic (not local traffic) March 31 to August 4 2019

Grafton Ave Closed (Traffic must circulate using Laneway to Harvard Avenue
Access to Queen Street Laneway Closed
1 Lane to remain open on Harvard Avenue at all times
Bump-out retrofit to coincided during this time

South Side of the Queensway (Parkside Bridge to Sunnyside) April 10 to August 4 2019

Access to Toronto Pump Station required at all times
Southside Parkside Bridge to coincide during this stage
Cross Over required at Colborne Lodge

Full King – Queen – The Queensway – Roncesvalles intersection closure August 4 to October 7 2019

Queensway to be local access only to Glendale
Intersection opens October 8 (All legs of the intersection open, reduced lanes East and West)
This project has been anticipated since the reconstruction of the top end of Roncesvalles that was completed in 2011. It will improve public transportation and realm, pedestrian environment, and traffic circulation in this area. The Roncesvalles Village BIA and Parkdale Village BIA will be working together to mitigate the impact of the construction on our businesses and their customers.
More details on each phase of construction will be provided as we approach the specific dates. There will also be a link for this project on Councillor Gord Perk's and the City's websites.
If you have any questions about this project, please contact Councillor Gord Perks' Office 
Ward 4 Parkdale – High Park at 416-392-7919, or by fax at 416-392-0398.
twitter: @gordperks  Facebook: @GordPerks