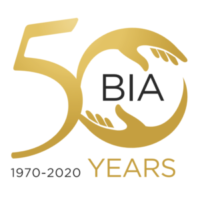 In 1967, a proliferation of shopping malls were springing up on the outskirts of the city. With less shopping traffic, this resulted in vacancies and some neighbourhood Main Streets began to look run down.
Out of frustration and a desire to improve the appeal of the street, Alex Ling, along with other shop owners from Bloor Street West, approached City Hall and the Province seeking legislation that "would compel all businesses within a designated area to pay a levy for the purpose of revitalizing their business strip through physical improvements and promotional activities".
As a result, the Bloor West Village became the pioneer of the BIA concept and was designated as the first BIA in 1970.  The High Park BIA and Roncesvalles BIA followed soon after.
Legislation first created in 1970.
First BIA in the world – Bloor West Village.
One of the earlier BIAs, the Roncesvalles Village BIA  was established in 1986 as a result a the merger of the High Park BIA and the Roncesvalles BIA, each of which covered a few blocks of Roncesvalles Avenue.
As of 2020, there are 84 BIAs in Toronto
To date there are more than 300+ BIAs in the province of Ontario.
Celebrating 50 years of Connecting People & Place