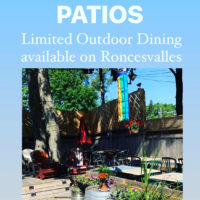 UPDATE:  Emergency Brake in effect April 3rd has paused opening of patios.  Please refer to the most recent post for up-to-date info on Provincial safety mandates for businesses.
On Friday, March 19th, the Ontario government announced changes to the Grey-Lockdown take effect.
While indoor dining is prohibited for areas in the Grey-Lockdown level of the Framework, outdoor dining is permitted for Grey-Lockdown regions (including Toronto), subject to physical distancing rules and several other public health and workplace safety measures outlined below.
To find Roncesvalles Patios, follow this link to our directory and look for the dated updates for what patios are currently open.
Limiting tables to members of the same household with exemptions for patrons who live alone and caregivers
A sign posted by the establishment in a location visible to the public that states the maximum capacity (number of patrons) they are permitted to operate under
Require patrons to be seated; 2 metres minimum or impermeable barrier required between tables
Limit of 4 people may be seated together
Require contact information for all seated patrons
Face coverings required except when eating or drinking only
Establishments must be closed from 10 pm to 5 am
Liquor sold or served only between 9 am to 9 pm
No consumption of liquor permitted between 10 pm to 9 am
Dancing, singing, and the live performance of music is prohibited
Limit the volume of music to be low enough that a normal conversation is possible
A safety plan is required to be prepared and made available upon request
Food Establishments: You may take advantage of the following methods without CaféTO registration:
Patios on private property
Small frontage cafes
Read more about these options here.
The rules for retail remain the same:
50% capacity limit for supermarkets, convenience stores, pharmacies, and other stores that primarily sell groceries continues
25% capacity limit for all other retail stores, including big box stores, liquor stores, hardware stores, and garden centres
Curbside pick-up and delivery permitted
Stores must post  capacity limits  publicly (at any entrances customers and staff may use)
Stores must have passive screening for patrons. This can be done by posting this screening poster at your store's entrance
Individuals must continue to practice physical distancing and wear a mask