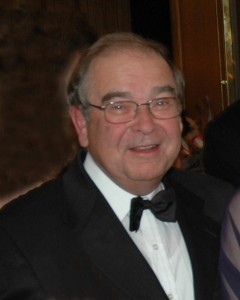 At the recent OBIAA Conference held in Toronto, the founder of the Roncesvalles Village BIA, Mr. John Wakulat, was awarded the prestigious Alex Ling Lifetime Achievement Award.
The Alex Ling Lifetime Achievement Award is given annually to a person in the Ontario BIA movement with major lifelong contributions to BIAs. The award is named after Alex Ling, one of the founders of the world's first BIA, the Bloor West Village BIA, in 1970. Today there are 83 BIAs in Toronto, hundreds across Canada, and thousands upon thousands around the world.
John got his start in Roncesvalles Village in the 1950s when he started work at Pollocks Hardware Store. He bought the store in 1976 and it rapidly became one of the top stores in the Home Hardware chain.
In 1986 John was instrumental in founding the Roncesvalles Village BIA, a merger of two smaller BIAs on Roncesvalles Avenue. He served as chair of the Roncesvalles Village BAI for many years and still sits on the board as Chair Emeritus.
John has also served as president of TABIA, the Toronto Association of BIAs from 2002 until 2010, returning to the role in 2012.
We congratulate John for this richly deserved award!