Originally posted June 11
Patios & CafeTO on Roncesvalles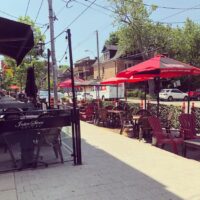 The long wait is over Roncy! Many Patios and CafeTO spaces are now open on Roncesvalles!  Some are open as early as 2pm today (Friday, June 11), others are needing a little time to get ready for you.  Check the PATIOS highlight on our Instagram profile to keep up-to-date on what locations are open for you to enjoy some drinks and dining outdoors in the neighbourhood. 
You can check our directory for where you can find all Roncesvalles Village patios AND we've also got a Google map for you that includes both patios and CafeTO spaces! To see the drop down list as text, tap on the icon on the top left hand corner of the map below.
Stay tuned as we add more openings as the season progresses.
The RVBIA sends their appreciation to Hypitch Marketing for their expert management of the CafeTO program on Roncesvalles!