On April 28th, join over 200,000 residents, students, businesses, organizations and communities as we clean Toronto together for the 16th annual spring cleanup!
The Roncesvalles Village BIA & RoncyWorks will be hosting the Roncesvalles Avenue Community Clean Up. We will be encouraging BIA members to clean in front of their businesses on the sidewalk and their back laneway. We will be inviting community members to assist us with the gardens and tree grates along Roncesvalles.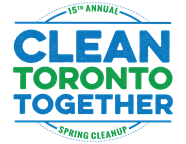 All items needed for the clean up will be provided by the City of Toronto and the Roncesvalles Village BIA.  We will have two groups meeting at 10:50AM; one meeting at Dundas and Roncesvalles Peace Garden, and the other meeting and Howard Johnson Inn. We will make our way up the street at 11:00AM and meet in the middle of Roncesvalles Avenue to end the clean around 1:00PM. Dress comfortably and for the weather!