Updated Wednesday, April 11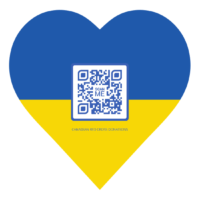 The Roncesvalles Village BIA stands with the people of Ukraine.
If you are on this page, it is likely because you scanned the QR code on one of the blue and yellow heart shaped decals visible in the windows and doors of businesses along Roncesvalles.  Initially, we were intending the QR code would send people directly to the Canadian Red Cross, however, in the few short days since sending them to print and now, the situation in Ukraine has worsened and the ways to help has increased in response.
Therefore, we created this page where we have compiled multiple places and organizations, including several Roncesvalles businesses where, if you would like to take action, you can support those affected.  We will continue to update this page as information comes in.
---
The Chair of the Roncesvalles Festival met with officials at the Polish Consulate in Toronto on March 1st, 2022. Consul General Magdalena Pszczolkowska provided the link below. This is an official Government of Poland site created in conjunction with the National Bank of Ukraine, to provide support for the people of Ukraine.
---
At Roncesvalles Businesses:
Old Country Shop is collecting humanitarian aid donations items to be sent to the Ukraine via Meest Canada.  All packages will be delivered into Ukraine to Meest Humanitarian Fund in Lviv and distributed to selected Ukrainian charity relief organizations who will distribute goods all throughout Ukraine. You can read more about what items to donate via Old Country Shop's website.
You can drop off any of the listed items to The Old Country Shop at 📍 355 Roncesvalles Avenue anytime between 11am-5pm Wednesday through Saturday. UPDATE: Please go to Meest Canada to arrange to send items to Ukraine – Old Country Shop has paused accepting donations at this time.
Pizzeria Defina is selling Ukrainian Prints by Studio Natt. All proceeds will be donated to the Canada-Ukraine Foundation (or similar organizations in support of Ukraine).  📍 321 Roncesvalles Ave
Juniper Skin Care until the end of March 5% of sales from products & services will be donated to the Ukrainian Canadian Congress help the humanitarian effort in Ukraine. 📍 219 Roncesvalles Ave. 2nd Floor
Cookery is hosting Chef Sasha Gaponovitch for an evening of traditional Ukrainian food on March 22nd. With 100% of the proceeds going to the Ukraine war effort and the local Ukrainian community. More information: www.cookery-store.ca📍303 Roncesvalles Ave
Scootergirl Toys is raffling off one of the 12" blue Our Glowing Hearts to support the people of Ukraine. You can purchase tickets for the draw on their website or in store (📍 187 Roncesvalles Ave) until 5pm on March 20th.  100% of the monies raised will be donated to the Canadian Red Cross Ukraine Humanitarian Crisis Appeal.
Bossa Nova stocked Riesling, Rosé and Gamay from Niagara's Leaning Post Wine, an exceptional winery led by Ukrainian-Canadians.  Leaning Post is donating all proceeds from our order to the Canada Ukraine Foundation. Their wine agent / liaison, Nicholas Pearce Wines, is donating their portion and Bossa Nova is donating the cost of each bottle. 📍 103 Roncesvalles Ave
MyOlive Tasting Bar is donating 5% of all sales online and at their 3 locations Monday March 21st through to Sunday March 27th to World Central Kitchen "WCK". "World Central Kitchen, which helps in the aftermath of disasters, opened its first kitchen in Poland on Feb. 24, within hours of the invasion. It now serves eight border crossings and staffs centers elsewhere in Poland and in Ukraine, Hungary, Moldova, and Romania"
---
From the Roncesvalles Village BIA Social Justice and Anti-Racism committee:
The Roncesvalles Village BIA and the RVBIA SJAR committee stands for the fair and equal treatment of refugees from Ukraine. Below are a list of organizations you can support that advocate for equitable safe passage and resettlement of refugees:
---
Money raised will enable the Red Cross and Red Crescent Movement to respond to humanitarian needs generated by almost eight years of conflict, as well as preparedness and response efforts due to heightened tensions in Ukraine. The support could include preparedness, immediate and ongoing relief efforts, long-term recovery, resiliency, and other critical humanitarian activities as needs arise, both in Ukraine and surrounding countries, including supporting populations displaced. Donate to the Ukraine Humanitarian Crisis Appeal.
---
If you have any questions or concerns, or an additional resources you would like to suggest, please contact our office by filling out the contact form.
Our thanks to the Roncesvalles Village Residential Association for their enthusiasm in support of this initiative.