There has been a great deal of confusion over the past few days about the 504 bus. It has been taking a rather strange route, detouring all the way to Shaw St. before coming to the bottom of Roncesvalles. This was because of an emergency watermain repair that blocked eastbound traffic on King St. Our understanding is that this is now over, and things are somewhat more normal.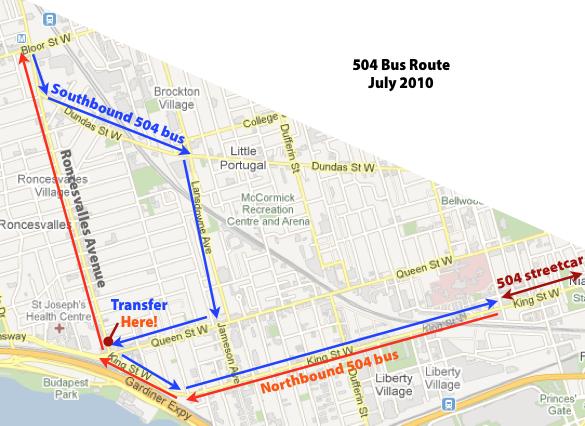 There will be ongoing work on King St. for the next while, so the 504 bus is serving Roncesvalles and King St. using this route:
SOUTHBOUND: Dundas West Station, south on Dundas and Lansdowne, west on Queen to Roncesvalles, east on King to Shaw.
NORTHBOUND: west on King, north on Roncesvalles to Dundas West Station.
Please note that, if you're coming from Dundas West Station and you want to go north on Roncesvalles, you should transfer from the southbound 504 to a northbound 504 at Queen and Roncesvalles.
This is a bit inconvenient, but we appreciate that the TTC has to do some fancy footwork to dodge around all the construction that is happening in Toronto these days.