It is with pride that we announce that the Roncesvalles Village BIA has been awarded the Special Events and Promotions Award at this year's Ontario BIA Association conference.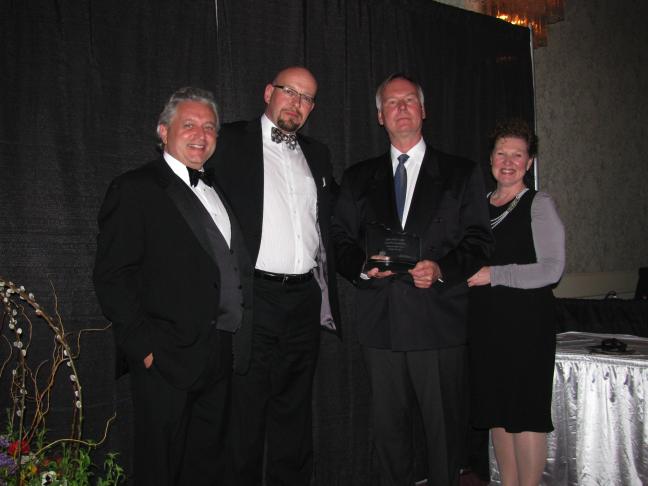 RVBIA Vice-chair Andrew Chomentowski accepted the award on behalf of the BIA. In particular, this award acknowledges the extraordinary success of the Roncesvalles Polish Festival, which in five years has become one of the largest neighbourhood festivals in Toronto and the largest festival focussing on Polish culture in Canada. In our press releases we call the festival "Canada's largest celebration of Polish culture in Toronto's best neighbourhood."
In this photo we see TABIA executive director John Kiru, RVBIA Chair Tony Cauch and Vice-chair Andrew Chomentowski, and Patti Brooks, Vice-president of OBIAA.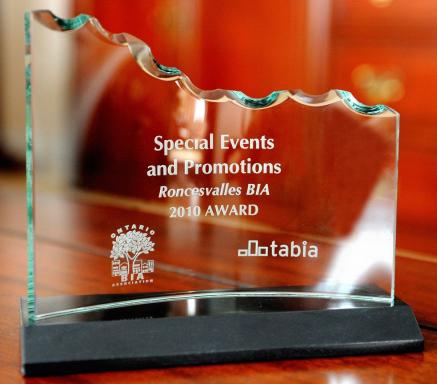 The following address was read in advance of the award's presentation: "The Roncesvalles Polish Festival has grown from its humble beginnings of a few thousand people to attracting an estimated 175,000 to 200,000 people in 2009 – the largest Polish Festival in Canada, if not North America.
The success of the Roncesvalles Village BIA Polish Festival is largely due to the innovative approach to the re-branding of the festival some 5 years ago. Formerly known as the Harvest Festival and although effective, was not distinctive and drew small numbers at significant expense.
By taking advantage of its rich Polish heritage, the Roncesvalles Village BIA re-branded its name to the "Polish Festival" and distinguished itself in a crowded market of neighbourhood festivals in Toronto.
Attracting momentum with their new name, significant sponsors for the event leveraged their modest event budget almost 7 times.
The Polish Festival puts the Roncesvalles Village BIA on the map every year; broadcast in Poland, across the GTA and as far away as New York City, major Canadian television networks pick-up on the event. The event attracts people from all over the world and is a major internationally celebrated event.
Please join me in a warm round of applause for Roncesvalles Village BIA."
The RVBIA congratulates and thanks all past and current members of the Promotions and Marketing Committee. In particular we thank that committee's chair, Andrew Chomentowski, who has volunteered for the BIA for over two decades on the Promotions and Marketing Committee. This award is a tribute to his ongoing efforts to promote Roncesvalles Village.
This award is the result of an enormous group effort. We thank our Festival patron, the Consulate General of the Republic of Poland in Toronto, and our Festival sponsors including the Polish Credit Union, Peter Mielczynski Agencies, European Fine Foods, The Knights of Polonia, and all the participating members of the Roncesvalles Village BIA.