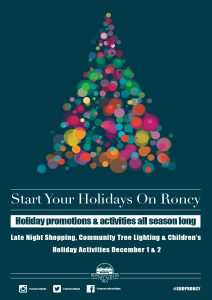 The Holiday Season is fast approaching. Kick it off with us on December 1 and 2!

On December 1st Shop Roncy Late. Participating shops will have promotions, sales and activities until 9:00PM, with select shops staying open until 10:00 PM.
December 2nd bring your family to Roncy and visit Santa at Willem and Jools at 125 Roncesvalles in the early afternoon before you make your way over to the High Park Library for story telling followed by a fake snowball fight on the Library lawn. Carolers will sing in the season during the day and at dusk as our community tree is lit in front of the Roncesvalles United Church.
There is no cost for our community events, but we encourage you to bring donation items for the Roncesvalles United Church Sunday Meal Program, Dinner with Dignity. This program serves 16,000 fresh meals per year; lunch and dinner every Sunday. Every little bit helps! The church accepts donations Monday to Friday between 9:30 AM and 5:00 PM or all day Sunday. We will be accepting perishable food items on their behalf from 4:00 PM – 5:30 PM on December 2nd.
Schedule of Events:
December 1st
Late Night Shopping
Shops are open until 9:00 PM with special in store activities or promotions
*Select stores open until 10:00 PM
December 2nd
Holiday deals continue along Roncy all day long!
1:00PM – 4:00 PM – Santa at Willem and Jools
Enjoy hot cider and cookies and get your photo taken with Santa
*No cost, pictures will be emailed afterwards
4:00 PM : Storytelling at High Park Library
4:30 PM : Fake Snowball fight on the library long
5:15 PM : Community Tree Lighting in front of the Roncesvalles United Church
Donations accepted outside from 4:00 PM – 5:30 PM.
Otherwise please bring them to the church office.
Follow our Event Page  to stay up to date!