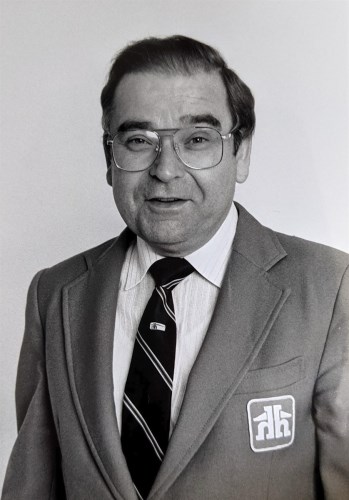 It is with heavy hearts the Roncesvalles Village BIA Board shares the news of the recent passing of ​​John Wakulat, founding Chair of the Roncesvalles Village BIA.  
Long time Roncesvalles Village residents and business owners will remember John as former owner of Pollocks Home Hardware, family man and enthusiastic champion of local small businesses.  
John is also remembered fondly for his warmth and conviviality, and for his bright, hand-lettered window signs at his hardware store at 347 Roncesvalles Ave, quintessential of local businesses of the era. He made it a policy to employ local students at a living wage and was known for always offering a helping hand for repair and building projects small and large. 
As someone who was deeply invested in the needs of the community around him, John recognized the value of collaborating with fellow small business owners to improve the neighbourhood. As a result of his fierce advocacy, support and belief in local commerce, John became the a driving force in founding the original Roncesvalles BIA and its eventual merger with the High Park BIA to form what it is today, the Roncesvalles Village BIA, now celebrating our 35th year. 
The Roncesvalles Village BIA is one of the earlier Business Improvement Areas established in Toronto, and the world. John took his inspiration from Alex Ling, the founder of the world's first BIA, Bloor West Village BIA (est 1970) and continued to call Alex a friend until the latter passed away in 2018.  As our BIA's founding chair, John served as the RVBIA Board Chair well into the late 1990s.  
Such was his ongoing conviction in support of local business, John would go on to advocate for local business and neighbourhood improvement at a city-wide level when he joined the Toronto Association of Business Improvement Areas (TABIA) as a board member and then ultimately Chair of the TABIA Board.    
John was formally recognized in 2015, when he was awarded the Alex Ling Lifetime Achievement Award, which is given annually to a person in the Ontario BIA movement with major lifelong contributions to BIAs.
The Roncesvalles Village BIA Board and members send our heartfelt condolences to the Wakulat family for this loss.  We'd also like to express our deep appreciation for John's significant contribution to the Roncesvalles business community and his invaluable efforts which helped to build our vibrant neighbourhood to what it is today.
A private family service will be held. In lieu of flowers, the family would prefer donations be made to the Alzheimer Society or the Bruce Trail Conservancy. More information can be found here.