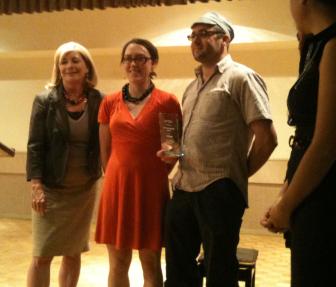 A number of you know one of the newest and funkiest businesses on Roncesvalles Avenue. Mari Cla Ro, at 457 Roncesvalles, is a store that manufactures and retails purses, handbags, panniers, briefcases and the like, made entirely from recycled materials.
Mari Cla Ro opened on Roncesvalles last year, and on June 15 Sven, Willa and the rest of the Mari Cla Ro crew received a Innovative Business award at Cheri DiNovo's annual Spring Levee. (In the photo, from left to right, Cheri DiNovo, Willa Murray, Sven Schlegel.)
Sven and Willa are also active members of the BIA's Marketing and Promotions Committee. We congratulate Mari Cla Ro for their award, and thank them for doing their part in making our neighbourhood great!