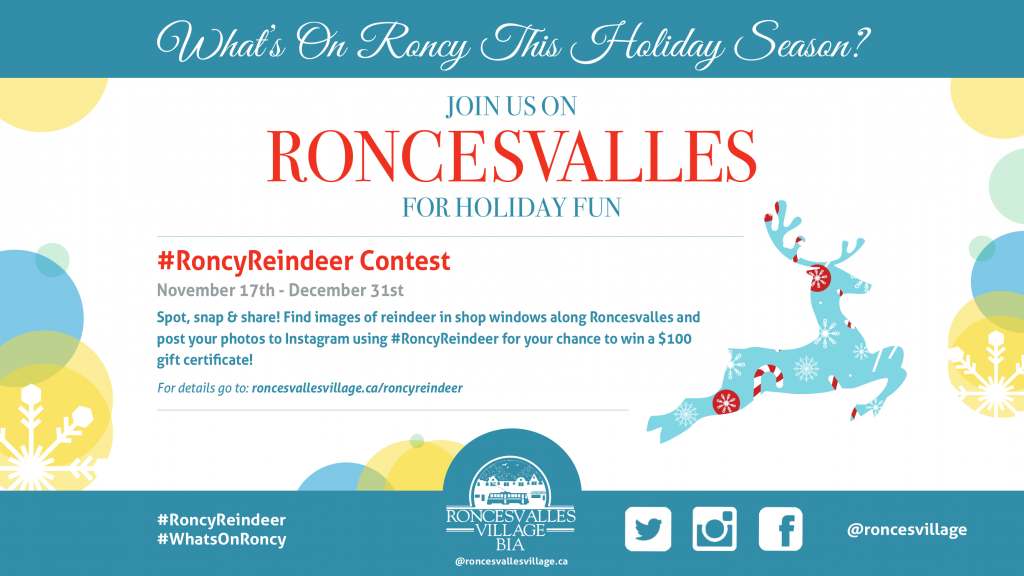 #RoncyReindeer Contest
Starting November 17th through the end of December, spot the#RoncyReindeer along Roncesvalles in storefront windows and gardens from the top to the bottom of the street, share it on social media for your chance to win a gift certificate!
How to Enter:
Spot and snap #RoncyReindeer (be sure to look closely at shop windows – the Reindeer may not be obvious!), then share that photo share on social media (Instagram or Twitter) and tag it #RoncyReindeer for your chance to win!  You can also post it to our Facebook page or email it to us at roncyreindeer@roncesvallesvillage.ca
This year we're running a Roncy Reindeer Race! Post as many as you can, by December 31st to win a $100 Gift Certificate! The two runners up will receive a $25 gift certificates each. 
So, don't forget:
Spot: the reindeer in store front windows and gardens and along Roncesvalles Avenue
Snap: a photo of the Reindeer (you can include yourself if you'd like!)
Send or share: email to  or share on our Instagram or our Facebook page (but make sure you include the hashtag!) to be automatically entered #RoncyReindeer!
* Remember to read our terms and conditions to get the specifics – Contest Terms and Conditions
The entrant with the most individual #RoncyReindeer submitted (correctly shared/emailed) will be awarded the $100 gift certificate.  The runners up with the 2nd and 3rd most will be awarded a $25 Gift Certificates each.  Winners will be notified by January 8th via the method through which they entered the contest (Instagram/Facebook/Twitter/Email),  so keep an eye on your inboxes and DMs to see if you've won! The winners will be announced on our social accounts by January 15th, 2020
Good luck – we can't wait to see all the images of #RoncyReindeer you spot along the street!