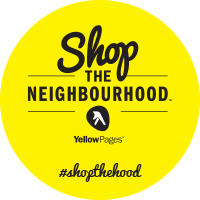 Most people from Roncesvalles Village love that we have so many great shops, services and awesome places to eat, drink and be merry. On Saturday, let's show Canada our shop local spirit  as the Yellow Pages brings their Shop the Neighbourhood Challenge to Roncesvalles Avenue.
• Official event times: 11 a.m. to 2 p.m.
• Event location: High Park Library Lawn, Corner of Wright Ave. and Roncy.
Share your love: When you spot something awesome along Roncesvalles, snap it and tag it #shoproncy and #shopthehood.
While you're at it, you can pick up free promotional items such as shopping bags, balloons and scarves – but quantities are limited, so make sure you get out during the official event times.
Shop The Neighbourhood is a national Yellow Pages campaign dedicated to raising awareness of the importance of local shopping and supporting small businesses in neighbourhoods across Canada.