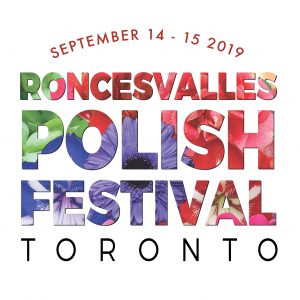 Hey Roncesvalles, it's that time of year again!!
North America's largest celebration of Polish culture in Toronto's best neighbourhood, Roncesvalles Village returns Saturday, September 14th and Sunday, September 15th for 2 days of Polish Culture and Cuisine.
Now in its 14th year, the Roncesvalles Polish Festival returns with over 90 vendors, 6 Beverage Gardens + Extended Patios, 2 Family Zones – Amusement Ride Area's and 3 outdoor stages with over 40 performances over 2 days:
·      Polish-Canadian recording artist, Anna Cyzon
·      Polish-Canadian rock band Kompot
·      Grammy-nominated John Gora and Gorale
·      Box On
·      Impulse
·      Buffalo Touch (performing at the Polka Party)
·      Phocus
·      Polanie
·      Polka Hall of Fame inductee Ed Guca and the Polish Canadians
·      Polish dance and folklore groups
During the week leading up to the Roncesvalles Polish Festival, (Tuesday Sept. 10th to Friday Sept. 13th) to celebrate the Roncesvalles Culinary Experience, places such as Barque Smokehouse, Café Polonez, La Cubana, Defina Pizzeria and other Roncy restaurants will offer a prix fixe menu with a Polish flavor accent. Special guests and celebrities will be popping by the participating restaurants to meet and chat with diners about their experience.
The event will culminate with a Live Show "Kitchen Party with Grego and Ada", recorded on Saturday, September 14th, 5 PM. TV celebrity Grego Minot, actor and 'Real Housewives of Toronto' cast member has teamed up with TV show producer/host Ada Mlostek, our Culinary Ambassador, ('Look I Cook' and 'Travel, Eat, Have Fun, Repeat') and created the cooking-themed talk show that combines food, wine, positive energy and candid conversations with celebrity guests. The co-hosts will engage with special guests of the Roncesvalles Polish Festival in a fun and informal manner in order to present them as they are beyond their public image and away from the spotlight. Watch out, their energy is contagious!
Other special events include a Polka Party  and a Pierogi Making Class. Enjoy tasty Polish fare at the festival, including pierogi, kielbasa, bigos, cabbage rolls, pickle-on-a-stick and much much more!  Along with other attractions, Buskers, ArtWalk  and a delicious array of Polish Classic Cars, discover 18 blocks s of boutique shops and merchants and local eateries, pubs, delis and Cafés.
#RoncyPolishFest
For more details visit: polishfestival.ca and connect with the Roncesvalles Polish Festival on their social links: