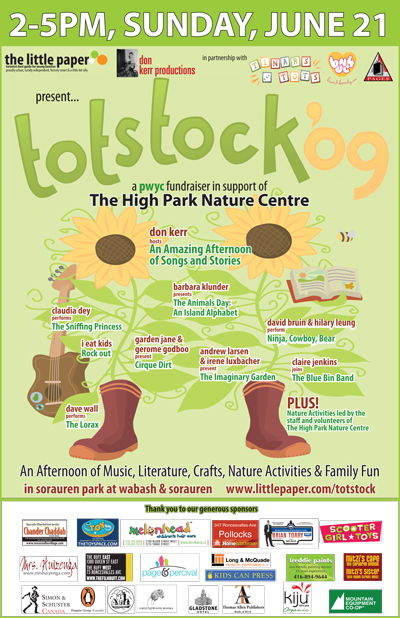 Totstock is coming this Sunday at Sorauren Park. A great event for kids of all ages (but particularly 2 to 8 years!) Here's the press release:
TOTSTOCK '09
Who says it's not easy being green?
Don Kerr & The Blue Bin Band host 'Totstock 09', an afternoon of songs, stories and crafts designed to make eco concerns fun and accessible for curious minds aged 2-8.
Don't miss the musical stylings of Claire Jenkins, Garden Jane and Jerome Godboo's Cirque D'irt and, I Eat Kids.
Come, watch:
David Wall perform The Lorax by Dr Seuss,
Claudia Deybring to life Kerr's Sniffing Princess & The Sweet Toothed Prince,
illustrator Irene Luxbacher & author Andrew Larsen paint The Imaginary Garden,
Peggy Collins present In The Garden, and
Barbara Klunder share her new book, The Animals Day.
And you can make history: join
David Bruins & Hilary Leung as they stage the world's largest ever Cowboy Ninja Bear tournament.
Paint the park – with RMRA- help us decorate the ugly fence by the Fieldhouse – painting activity for small tots big tots, & in-between tots
Roncydad – Roncydad t-shirts $15 special limited edition for dad's day – only available at Totstock
Chris Reed will be Master of Ceremonies.
All proceeds go to The High Park Nature Centre, who will run eco-craft stations throughout the park.
totstock 09
brought to you by The Little Paper, Don Kerr and TINARS for Tots, in partnership with Bunch Family and Pages Bookstore.
Sorauren Park (At Wabash & Sorauren).
Sun June 21; 2-5pm. PWYC.