JOIN US ON RONCESVALLES FOR HOLIDAY FUN!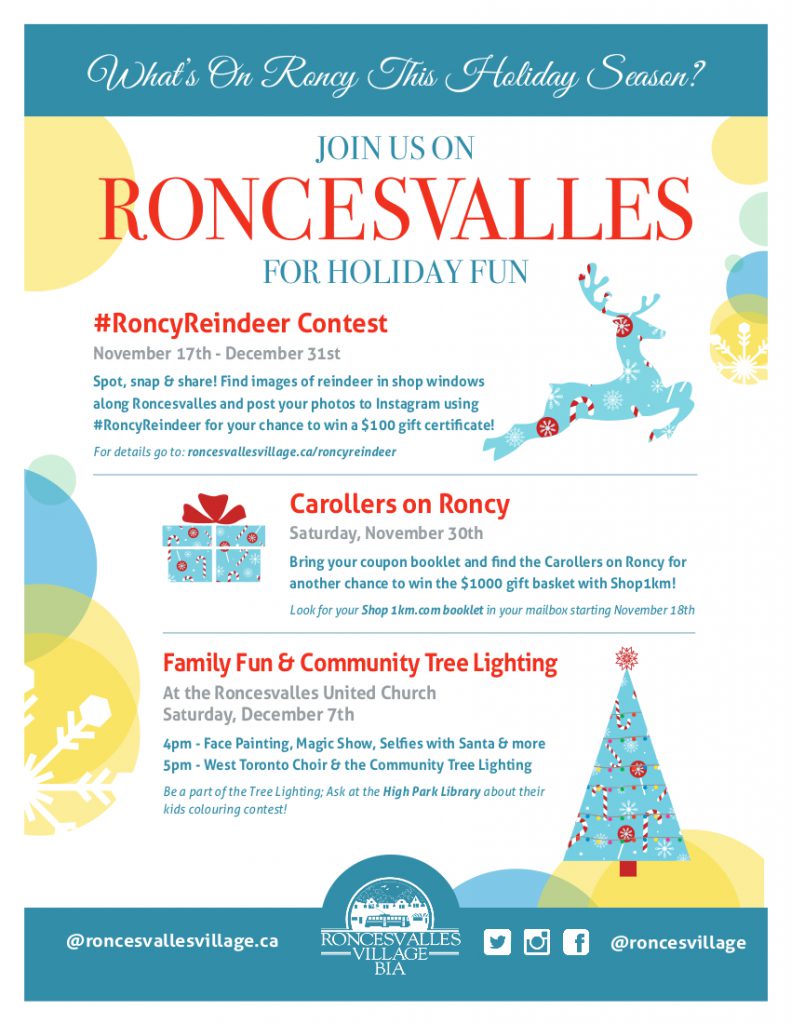 #RoncyReindeer CONTEST
Starting November 17th through to the end of December, Spot, Snap & Share a photo of a reindeer from a Roncesvalles shop window or winter garden on social media with tag #RoncyReindeer for your chance to win a $100 Roncy gift certificate or one of two $25 gift certificates!
Add tag #RoncyReindeer when you post your original photo on Instagram or Twitter, or share your photo to Facebook to automatically be entered to win.
Not on social media? No problem! Send it to us at roncyreindeer@roncesvallesvillage.ca
For more info and contest details visit roncesvallesvillage.ca/roncyreindeer
Saturday, November 30 – 2pm to 4 pm
Get into the holiday spirit and enjoy the JingleBelles Carollers on Roncy! First, check your mailbox (starting November 18th) for the Shop1km coupon Holiday booklet. Bring it along, and make sure you have it handy when you find the Carollers on Roncy – it will mean an additional chance to win the Shop1km $1000 gift basket!    For Shop1km contest details: www.shop1km.ca/giftbasket
Saturday, December 7th – 4pm to 6 pm
at the Roncesvalles United Church
Starting at 4pm, face painting, magician, selfies with Santa and more!
At 5pm, gather near the tree in front of the church enjoy the West Toronto Choir & the Community Tree Lighting
** Hey kids! Want to be a part of the tree lighting? Participate in the Colouring Contest! Head to the High Park Library and ask at the desk for a reindeer outline to colour in; return it to the High Park Library staff by 8pm on Monday, December 2nd with a contact name and number and you'll be automatically entered into a random draw to select the one to help with the tree lighting Saturday, December 7th AT 5PM at the Roncesvalles United Church!  You can find more details and download the stencil here